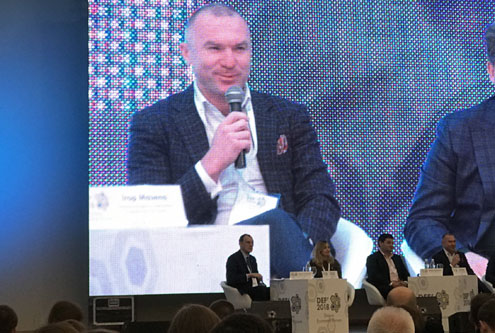 Igor Mazepa, the CEO of Concorde Capital investment company, believes that the Ukrainian economy will have only its own strengths to rely on in 2019.
"If we're talking about global trends, then the main challenge today is that the value of money is growing, while the value of commodities will likely fall. For Ukraine, as with all export-oriented countries, this means that there will be less money (dollars from export earnings), we will have more debt and lending will become more expensive and complicated. Therefore, whether we want it or not, our economy will have to rely on its own strengths and on its own funding in the nearest future," Mazepa believes.
In his view, Ukrainian business is investing in the development of the Ukrainian economy. For example, in the first half of 2018, capital investment in Ukraine grew 26.5% from the same year-ago period. Yet three-quarters of that financing was secured with the enterprises' own assets, according to the State Statistics Committee.
"What is needed for serious foreign investors to come to Ukraine? Above all, reforms are needed. An open land market is needed. A judicial system is needed in which there is trust. Honest and open privatization is needed. I believe agriculture and medicine are the most interesting for foreign investors because they offer growth prospects and it's these very spheres that can become locomotives for Ukraine's economic growth," Mazepa said.
Igor Mazepa expressed his views at the Dnipro Economic Forum (DEF2018) that gathered businessmen, experts, government representatives and NGO representatives for discuss prospects for Ukraine's economic growth.
https://def.dp.gov.ua/
This post is also available in: Ru
https://concordeoutlook.com.ua/wp-content/uploads/2018/11/IMG_8499-1.jpg
333
495
admin
https://concordeoutlook.com.ua/wp-content/uploads/2018/03/cc-out-1.png
admin
2018-11-16 14:53:08
2018-11-21 14:20:21
Igor Mazepa believes that Ukraine's economy will have only its own strengths to rely on in the next year