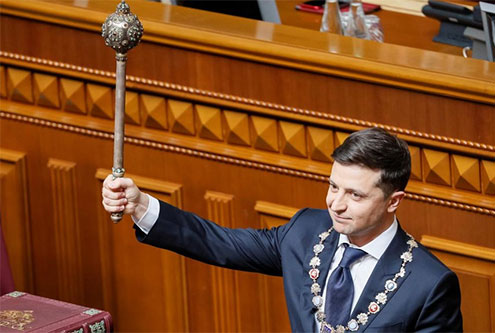 Alexander Paraschiy, the Head of Research at Concorde Capital, discussed the reaction of foreign investors to the statement of incoming President Volodymyr Zelenskiy dismissing Ukraine's parliament
More than likely, this is positive for international creditors since it enables starting earlier talks about a new program of support for Ukraine. All political uncertainties would be resolved about three months earlier.
The prices for Ukraine's Eurobonds grew a little bit on Monday morning. At the least, the market wasn't startled by Zelenskiy's declaration dismissing parliament, though now we'll have to follow its implementation.
If we characterize the market's reaction to Zelenskiy's declaration dismissing parliament was one of positive restraint, then accordingly, we can expect a negative reaction if he can't deliver on it in the nearest days.
The schedule for receiving the next IMF tranche under the Stand-By Agreement could be postponed since the IMF will hardly wish to sign a memorandum with lame duck officials.
On the other hand, the current program for IMF cooperation is precisely designed for the period between elections, so receiving the second tranche can't be ruled out. In any case, it will be worth waiting to see the IMF's comments on this matter.
Comments by Concorde Capital Head of Research Alex Paraschiy (CEO of Concorde Capital is Igor Mazepa) for UNIAN news agency  https://www.unian.net/economics/finance/10556325-otstavka-glavy-nacbanka-i-premera-mozhet-sorvat-tekushchuyu-programmu-s-mvf-eksperty.html
This post is also available in: Ru
https://concordeoutlook.com.ua/wp-content/uploads/2019/05/888-888.jpg
333
495
admin
https://concordeoutlook.com.ua/wp-content/uploads/2018/03/cc-out-1.png
admin
2019-05-21 13:50:01
2019-08-08 10:33:24
Investors viewed the declaration of parliament's dismissal with positive restraint and will react negatively to its nonfulfillment