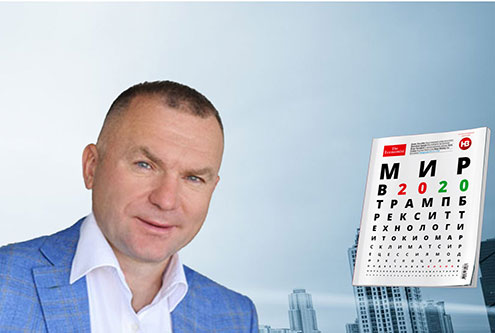 Concorde Capital CEO Igor Mazepa commented the risks and opportunities of 2020.
Concorde Capital founder and CEO Igor Mazepa comments on the risks and opportunities of 2020 for a special edition of Novoye Vremia and The Economist.
Ukraine has spent most of its recent history in crisis. The economic experiments at the start of the 1990s, the financial crises of 1998 and 2008, and the painful cutting of economic ties with Russia, which began in 2013 and grew into a military phase in 2014 – all of this has amounted to independent Ukraine's crisis years outnumbering the calm ones – says Igor Mazepa.
As we know, a crisis is not only a threat, but also an opportunity. It offers the chance to correct mistakes, relaunch or strengthen institutions, conduct reforms and select a new course. But to great regret, the crises at the end of the 1990s and 2000s taught us, as Ukrainians, nothing – comments Igor Mazepa.
We did not take advantage of the opened opportunities, sticking instead to the prior course of populism and imaginary stability. This course consisted of freezing key utility rates, which led to the collapse of infrastructure and energy, as well as created exorbitant pressure on the state budget. It became apparent in the unneeded support of the hryvnia's exchange rate, hindering the development of export-oriented industries, depleting our gross international reserves and provoking the 2015 default – says Igor Mazepa.
This course was also evident in the absence of policies to diversify economic ties, which deepened the crisis of industrial production, just as our main economic partner stabbed us in the back. It was even more apparent in the ignoring of oligarchic banking practices, which fully distorted the country's financial system, which collapsed like a house of cards during the last crisis.
But that perfect storm, which came over us in 2014-2015, also forced us to change quickly. We had to reset the banking system in order for it to work for the whole economy, and not the owners of banks. We had to radically change our utility rate and energy security policies, which saved our strategic enterprises from collapse and enabled us to cut budget expenditures. We had to reject our policies of "exchange rate stability" and currency restrictions, transitioning to a policy of inflation-targeting, which restored trust in the national currency, though not immediately. As a result of such simple, though sometimes painful changes, we are gradually restoring the trust of investors in Ukraine.
Currently, Ukraine is known in the investment world as a country with highly profitable opportunities in local debt and green energy. Every day, the number of investors grows who have made decent gains in these spheres. For many of them, it was the best investment experience in their lives, which is very positive. These people will automatically become friends of Ukraine. They will trust the country and no longer so warily regard its imagined risks. Obviously, they will be ready to consider new investment opportunities in Ukraine, which may not be as profitable, but more long-term.
So how is that new global crisis that became so fashionable to talk about in recent years? I think it's not scary for Ukrainians. Having survived the most terrifying local crisis in Ukraine's history, we are ready for anything. We have diversified our global economic ties, having found new trading partners. We began to actively invest in infrastructure, while raising the quality of life in the country and enhancing our potential for economic growth – says Igor Mazepa.
Yes, our economic and financial systems have not strengthened adequately enough to independently survive serious imbalances in external accounts if the global markets begin to severely weaken. But we have enlisted the support of global financial organizations that will help us weather new storms.
Furthermore, we have the possibility to invest and add value to industries whose conditions don't depend on the global economic cycle. The potential for agriculture will open to the extent that the farmland market is introduced. Healthcare reform will stimulate demand for quality medical services and pharmaceuticals.
Changes in utility rates will stimulate demand for energy-saving projects. Transportation reforms and the launch of a farmland market will promote more active infrastructure development. And the proximity to E.U. markets and relatively inexpensive resources, against the background of improved infrastructure and reduced economic risks, will stimulate a stream of foreign investment in industries that offer high added value and are oriented towards Western markets.
No one knows whether the next global crisis will occur tomorrow. No one can forecast with accuracy whether it will be caused by the trade war between the U.S. and China, Brexit, halting E.U. economic growth, the political crisis in the U.S., or in another country altogether. But under conditions of extending launched reforms, Ukraine isn't particularly afraid of anything.
We can become not only an island of stability in a world of large indetermination, but also strengthen our economic positions by taking advantage of friction between the top global players. I am confident we have something to offer to China and the U.S., and to Britain and the E.U. It's positive that we have this hovering global crisis because it won't allow us to weaken and stop halfway towards our changes.
Igor Mazepa commented for Novoye Vremia's 2020 special edition.
This post is also available in: Ru
https://concordeoutlook.com.ua/wp-content/uploads/2019/12/28122020.jpg
333
495
admin
https://concordeoutlook.com.ua/wp-content/uploads/2018/03/cc-out-1.png
admin
2019-12-28 20:21:24
2020-01-29 17:41:12
Igor Mazepa: 2020 – A Crisis Trampoline